Hyvä Themes – in our view, the future of the front-end for Magento 2 web development. Of all the Magento Themes, this is the one as an eCommerce merchant, you're going to be wowed by. It's futuristic, it's fast, and it performs.
As a merchant, you need flexibility, speed and ultimate performance when using the Magento eCommerce platform, right? Well, Hyvä Themes is the one to deliver.
Going beyond a standard Magento Theme, Hyvä Themes is the ultimate front-end development solution that will last – and drive long-term eCommerce results without difficult and costly maintenance. It's the perfect solution for your Magento 2 frontend.
But, with all the noise and debate, why would you just take our word for it?
We don't expect you to, either. In this article, we take a deep dive into Hyvä Themes, backing up our testimony with facts and statistics from the real world.
At a glance…
We'll cover:
Hyvä Themes benefits for eCommerce
Hyvä Themes usage statistics
Hyvä Themes eCommerce sales and revenue statistics
Hyvä Themes compatibility
Hyvä Themes competing themes
General eCommerce information for retailers
We've tried where possible to get you the latest facts and statistics for Hyvä Themes, but where this information wasn't available, we've used the most up to date information from late 2021.
Regardless of data dates, you'll find tons of justification as to why Hyvä Themes is right for your eCommerce business.
First, what is Hyvä Themes?
Already in the know? Skip to Hyvä Themes Facts and Statistics 2022
Official Hyvä Statement – "Hyvä themes is a brand-new frontend for Magento 2 with the best DevExperience, Performance and Time to Market.
With Hyvä, you build your Magento 2 shop quicker and with a lower budget. And the result is a modern and ultra-fast browser experience for your visitors."
What do we say?
Hyvä Themes is the latest (and currently the best) way to build storefronts for your Magento 2 website. In our view it's the front-end Magento 2 should have always had!
Why? Well, it allows developers to build the frontend of a Magento 2 website with ease and without the unnecessary complexity associated with the out of the box LUMA frontend stack.
Hyvä Themes was built from the ground up. Performance on another level was the only goal in mind. And, as a result, it gets you 100/100 on Google's Core Web Vitals assessments. In simple terms, you start from the top when optimising your site for performance, rather than starting from the bottom – like with LUMA.
The Hyvä Themes product was created by developers for developers. This is at the forefront of everything the business releases. Any upgrades do not contain backwards in-compatibility changes making applying them to your site quick and easy.
"Why does this matter to me?" I hear you as an eCommerce merchant say. It matters because it means that developers will spend less time applying upgrades to your site and therefore, your long term investment will be lower.
Hyvä Themes has opened the Magento 2 platform up to the SMB market again, which is phenomenal. But, the beauty is, there are even use cases for it at an enterprise level.
What are the benefits of Hyvä Themes for eCommerce web development?
Up until this point, Magento's out of the box frontend development framework (or the LUMA stack as it's otherwise known) is slow, difficult to work with and hasn't been updated since Magento 2 was first released.
Your goal as a merchant is to build the most profitable eCommerce store, right? In our view, the old LUMA stack pretty much prevents you from doing this. In comes Hyva Themes. The solution. The future of the Magento 2 frontend.
Hyvä Themes aims to resolve the problems with LUMA by removing the pain points associated with Magento 2 frontend development.
No more bulky code that impacts site loading speed.
No more issues with optimising your site for mobile devices.
No more costly and timely development due to complex and over engineered code.
You see, LUMA clearly is an outdated technology. All of these pain points occur because of the large number of JavaScript files that it delivers to the end user's device, which results in sluggish performance and quite honestly, an inefficient site. Pages load at a much slower rate as a result. Not what Google wants to see, especially given the latest core web vitals update.
But, out of the box, Hyvä Themes provides you with scores of up to 100 out of 100 across all of Google's core web vitals – and on both desktop and mobile. This means that you start from the top and can only bring your performance down yourself by, for example, adding 3rd party script tags to your Google Tag Manager container. See below a speed test taken from one of our most recent Hyvä Themes projects;
So to summarise, Hyvä Themes benefits you in the following ways;:
Performance – We've said it already. Hyvä Themes makes your site perform faster all round and passes Google core web vital assessments out of the box.
Removing complexity – Hyvä exists to allow merchants to retain the functionalities needed on their site, whilst keeping it simple. Building an online store has never been easier.
Development speed – Your eCommerce site can be built quicker due to less development time required. What might take 9 months using Luma, would take 3 months or so using Hyva.
Ease for developers – Given Hyvä Themes only requires developers to be familiar with Apline.js and Tailwind CSS, it's much easier to learn and use during development. Word on the street is that those invested in Hyvä Themes absolutely love it.
Reducing maintenance costs – Due to its simplicity, it reduces the ongoing costs associated with maintenance. Whilst ongoing maintenance is needed to support the efficiency and security of the site, these costs are much lower when compared with the current LUMA tech stack.
As you can see, there are multiple reasons we are big fans of Hyvä Themes. And the proof is in the data that others are too.
Hyvä Themes Facts and Statistics 2022
A Few Quick Hyvä Themes Facts
Hyvä Themes was created by Willem Wigman and released on February 15th, 2021.
Willem developed Hyva Themes having realised that 2 of the main issues with Magento's Luma theme are site performance and developer happiness.
There have been over 18 upgradea for Hyvä Themes released since it was launched. The product is being developed and is improving fast!
In November 2021, just 8 months after launch, there were over 120 live Magento sites and over 300 Magento sites in development.
Hyvä is a Finnish word, which means "good" in English. It can also mean "desirable" or "advisable". Pretty fitting for such a modern eCommerce solution.
Hyvä is pronounced 'Hoo-vuh' not 'Hoover' – it's not a Dyson!
Hyvä Themes is considered as a PWA development alternative. Hyvä Themes replaced most of the JS libraries with Alpine.js and used Tailwind CSS to give a user-friendly interface and experience.
The first ever HyväCamp for Magento developers and Magento 2 agencies was held in May 2022 in Aachen – just over a year after launching
There are now over 110+ compatible extensions with major extension providers confirming they are in the process of making all of their extensions compatible with Hyvä Themes.
Hyva Themes Usage Statistics
First things first, with all the scepticism from non-believers, you might be thinking 'do firms even use Hyvä Themes?'. Well, the answer is 'hell yes they do'.
Again, the proof is in the stats:
There are 814 eCommerce websites in the world developed using Hyvä Themes
There are 52 Magento 2 sites live in the UK using Hyvä Themes
At the time of writing this article then is in excess of 400+ Hyvä Themes projects in development.
Belgium is the biggest adopter of Hyvä Themes, closely followed by the US and Netherlands.
Source https://trends.builtwith.com/shop/Hyva-Themes as of 23.06.2022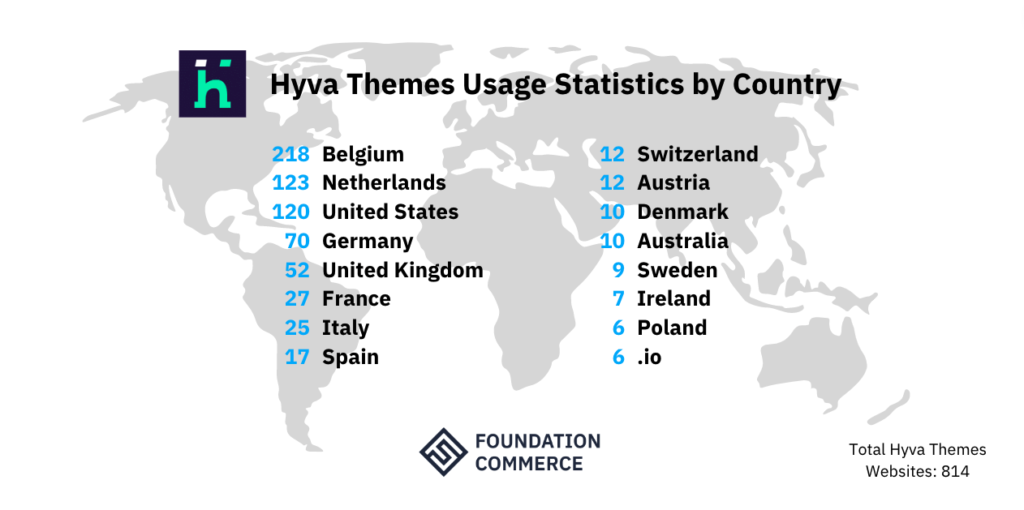 Hyvä Themes Developer Stats and Facts
Not all Magento 2 Developers are equipped with the knowledge of how to use Hyvä Themes. If you're considering using Hyvä Themes and want a specialist developer, you might want to note the below.
There are over 2000+ active Magento 2 Hyvä Themes developers
There are only 115 Hyvä Themes verified suppliers across the world with a total of 300+ agencies currently working with the new framework.
The Netherlands has the highest number of Hyvä Themes verified suppliers in the world, closely followed by the USA and the UK.
A Hyvä Themes licence costs a one-time fee of 1.000 € per project
Hyvä Themes has released Hyva Themes Documentation, which makes it easier for developers to educate themselves on how to use Hyvä Themes and have ease of access to updates.
Hyvä Themes Compatibility
Hyvä Themes requires the use of Magento 2.4 or newer. If you're still in dinosaur years using Magento 1, we'd seriously consider a Magento upgrade – even if you don't opt for Hyvä Themes.
Questions are often raised as to Hyvä' Themes compatibility and available extensions.
Well.
Hyvä Themes currently supports over 110+ extensions, with more being added all the time
Major extension vendors such as Amasty, Aheadworks, Mirasvit,Mageworx and WebKrul have all committed to making their extensions compatible.
Hyvä has a public compatibility tracker, whereby you can view all compatible extensions – and even vote for ones you wish to be compatible with.
The good thing about the Hyvä team and community is they are responsive to merchants and developers needs – they even have a business Slack channel which you're added to as soon as you purchase a licence.
Amasty, Aheadworks, Mirasvit, WebKrul and Mageworx are some of the leading extension developers available to merchants – each making a commitment to continue making their extensions compatible. See below a full list of extension developers who are making their extensions compatible with Hyvä Themes;
So, there's no doubt that desired extensions will continue to be made compatible with Hyvä Themes in the near future by other developers.
Hyvä Themes Competing Themes
Despite the majority of the Magento developer community's rapid adoption of Hyvä Themes, there are still other ecommerce developers who aren't quite ready to become advocates.
But what are they using instead?
The below demonstrate Hyvä Themes top competing frontend frameworks being adopted by other Magento 2 agencies.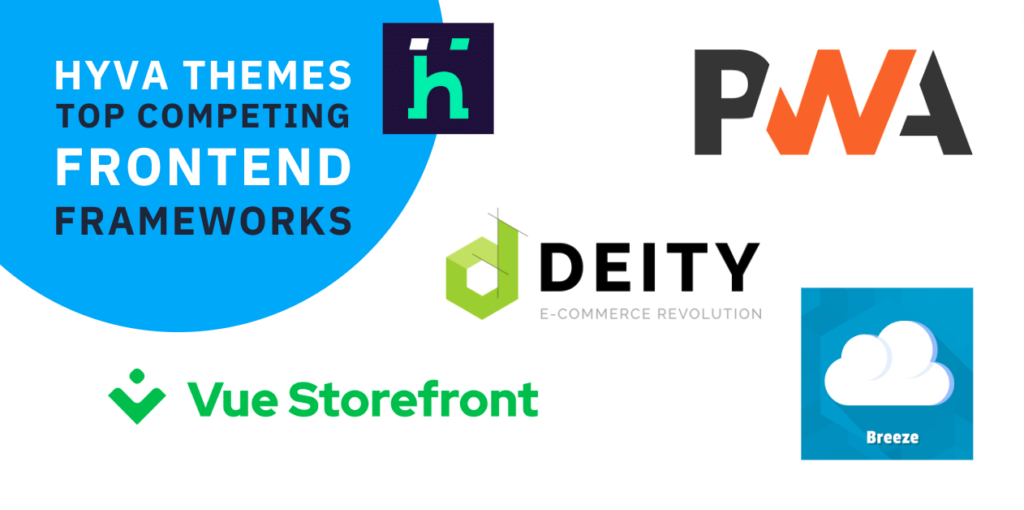 General eCommerce Information for Retailers
Who remembers the old days when shoppers saw online shopping as risky and something only the extravagant did? Whether you remember or not, it's vital to note that this was the old days – days we are not in anymore.
Online shopping is the future. Sure, bricks and mortar still have a place. But shoppers want to be able to get what they need and want online, without any hassle.
Let's look at the stats.
Experts predict eCommerce sales on a global scale will reach £3.95 trillion in 2022
Apparently, eCommerce sales in the UK are predicted to make up 36.3% of the total retail sales for 2022.
In 2021, 72.9% of total ecommerce sales were through mobile ecommerce.
As you can see, online shopping is the future. So, how do you ensure you meet the needs of online shoppers?
Relevant & accurate search – Customers that use the search feature on your website are 58% more likely to go on to purchase something. So, make it amazing.
Product filtering – Customers need to be able to find what they want and fast. Make sure they can filter your category pages based on their preferences.
Personalisation of online shopping is key – 74% of marketers agree this has a substantial impact on sales. (Salesforce). Studies from BCG show that highly personalised content encourages customers to add additional items to their basket. In fact, it can increase overall revenue by 25%.
Delivery costs – These are proven to influence a customer's purchasing decision. If you can offer free delivery, do it! If you can't, then make sure it's clearly advertised on your product pages with links to relevant pages.
Free returns – thanks to the bigger merchants (Amazon, Asos, etc) free returns have now become an expectation for a lot of customers. If your competition is offering this then your customers will likely shop around if you don't offer this service.
Choice of payment methods – Providing your customers with multiple payment methods at checkout is proven to increase conversion rates. Credit cards, PayPal and buy-now-pay-later methods should be made available and clearly advertised.
Virtual reality – this has already started appearing in the ecommerce sector. Online home and furnishing businesses have seen a huge lift in offering VR experiences to customers allowing them to visualise products in their homes through their devices built in camera.
Get social – According to BigCommerce, online stores that also have a strong social media presence average at 32% more sales
Use tech – AI, Bots, and automation to make eCommerce More Effective (Oracle)
And, what happens if you don't get it right? What's causing customers to drop off?
Bad CX – Two-thirds of customers stop buying from a company due to bad CX (Microsoft)
Costly shipping – If there's no free shipping, it's highly likely your customers will avoid a purchase (Digital Commerce)
Long winded account creations – Cart Abandonment goes up when you require account creation at checkout (Baymard Institute & NRF)
Complicated checkout pages – 18% of customers abandon checkout pages that aren't simple (Baymard Institute)
Long waiting times – 69% of consumers admitted to ditching an order because it would take too long for their purchase to arrive (Retail Info Systems)
Overloading with information – leads leave websites when they are given too much to digest – it requires a lot of decision making and reduces the desire to buy
Boring website – If your website isn't welcoming or exciting, don't expect customers to be interested in your product
Slow page load times – every second delay in page load time equals 11% fewer page views and 7% loss in conversions
Final thoughts
It's estimated there are 24 million e-Commerce businesses in the world and that's a lot to compete with. Hyvä Themes & Magento 2 could be the next step in helping you stand out.
Get in touch to see how we, as a "silver star" Magento 2 Hyvä Themes development agency, can help.