Customising and increasing the page speed performance of your Magento checkout page has never been easier thanks to this new module developed by Hyvä
For years it's been almost impossible to customise your Magento checkout – the entire Magento community and its merchant partners know it. But now, thanks to a groundbreaking modern checkout solution developed by the same team that brought you Hyvä, customisation is not only now possible, but it will be a complete breeze for your development team.
You see, Hyvä has developed the ultimate checkout module to not only make customisation of your Magento checkout easy, but cost effective and super speedy too. Yes, that's right, just like Hyvä Themes, Hyvä Checkout prioritises performance. No more clunkiness.
In this article, we explore exactly what Hyvä Checkout is and why it's on track to take the Magento world by storm.
What is Hyvä Checkout?
Putting it simply, Hyvä Checkout is a soon to be launched module for Magento which allows you to build a completely custom checkout page in less than a day and supercharge your checkout pages performance.
The Hyvä Checkout is a purchasable extension that anyone operating on Magento can integrate with their eCommerce store to build a checkout page their own way and provide the site speed that your customers expect on your checkout page.
Out of the box, it's ready to use as a standard checkout with multiple layout options – but the whole idea behind using Hyvä Checkout is to allow developers to create a bespoke checkout experience that your customers will love.
Hyvä Checkout Features
So, what's all the hype about? How exactly does Hyvä Checkout enable customisation? Well, let's take a look at some of the features on offer and you'll see.
Dedicated Checkout Layouts For Mobile Devices
Yes, that's right. Mobile optimization of the checkout, finally. Hyvä Checkout gives you the ability to display a completely different checkout experience to mobile users meaning you can completely tailor the customers checkout experience depending on which device they are using. This is a game changer for optimising your checkout conversion rate.
Furthermore, you can even A/B split test different checkout layouts using a free open source extension created by an awesome agency based in Holland known as Elgentos. See here for more information on this great feature.
Order Comments
Think customer interaction. Think better customer service. With Hyvä Checkout, you get both. Customers will now be able to add a comment to their order, letting you know anything they need to – or even send a nice message.
Customers will be able to read their comment within the customer account order section where shop owners will see it inside the comments section in the Magento admin panel. These comments are marked and recognisable so they can never be confused with internal order comments.
Your Checkout Page, Your Way – Different Layout Options Out Of The Box
Out of the box Hyvä Checkout offers two layout options. Default, which is a 2-columns layout and almost identical to the current Luma checkout and a one page layout that merges all components into a 3-column layout. See below screenshots of the two column layout;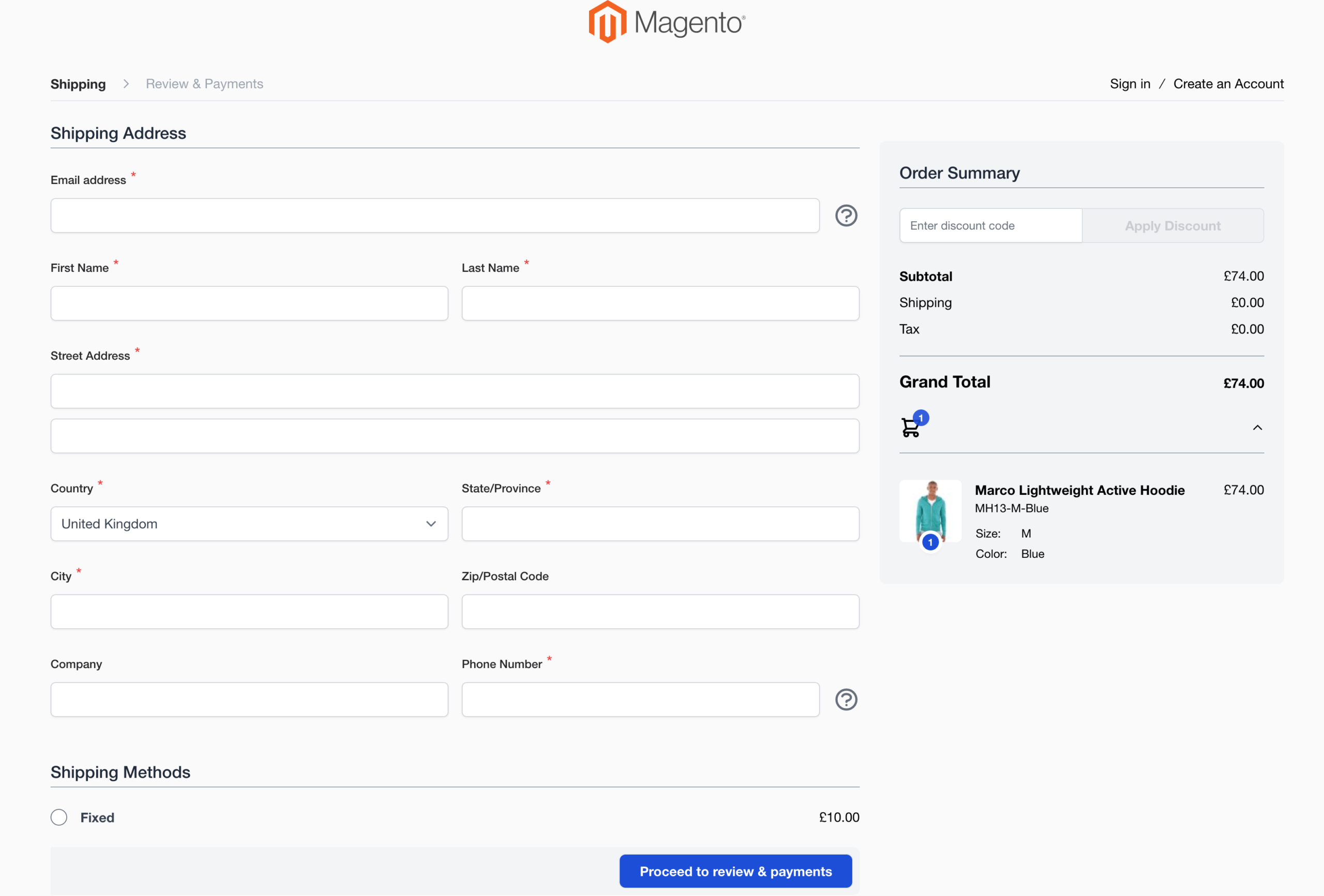 And below the one step layout;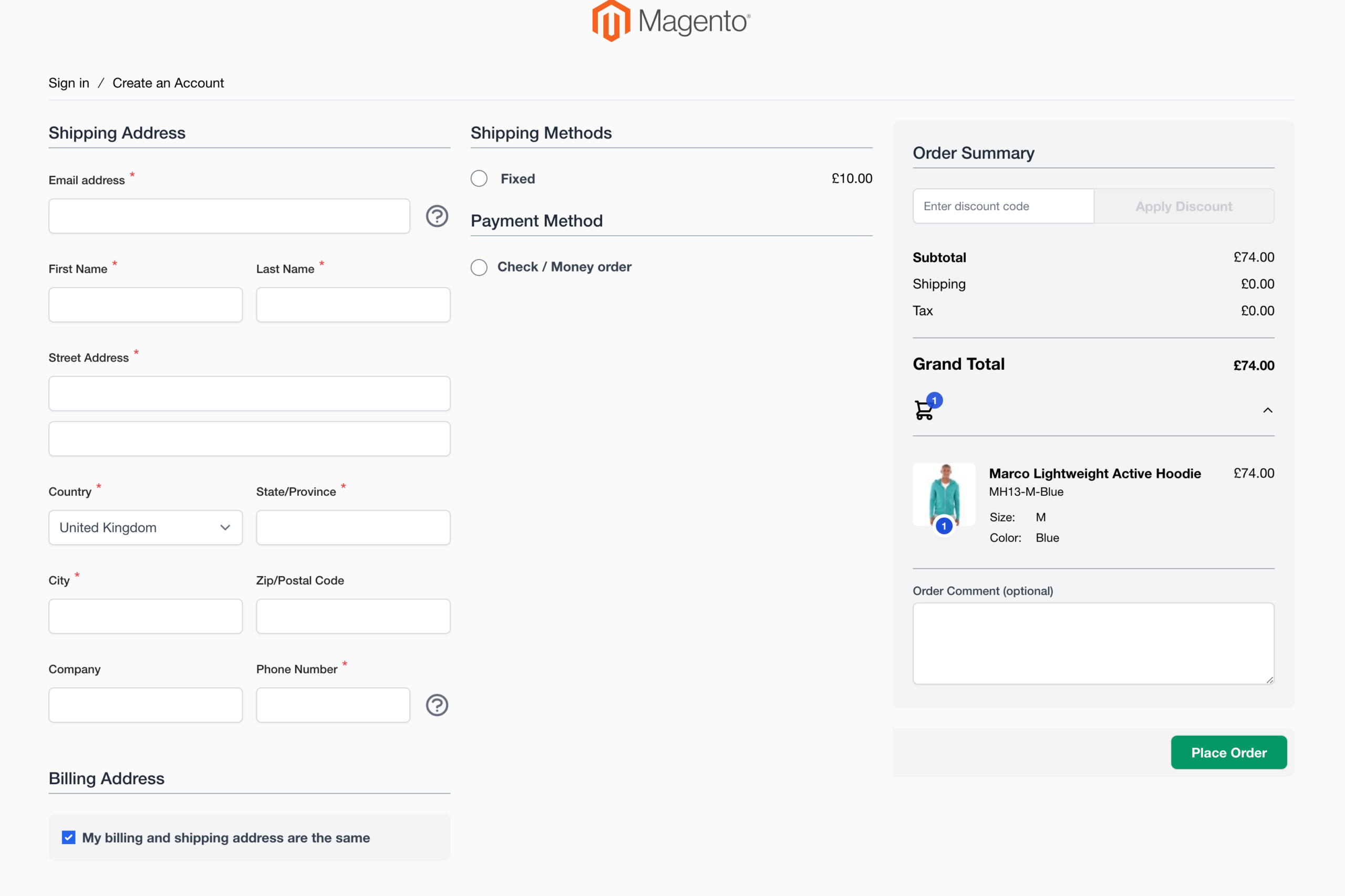 Hyvä also provides a 3rd layout which is created specifically for mobile devices. This layout is optional and can be enabled when desired through the admin area. This Mobile layout inherits the 2 step layout, so will have (and keep) all the same features, but has a third step where the full order is summarised before the customer places the order.
So in a nutshell, no matter what layout you run, you can be sure that your checkout page is optimised for all devices. Adding steps, updating existing steps based on e.g. a customer group, changing the layout from e.g. a three to a two column layout, change step titles (labels), put steps between existing steps. The customisation options are endless and can be implemented quickly and easily by developers who are already familiar with Magento.
Supercharged Checkout Page Speed Performance
As with all Hyvä offerings, the checkout has been developed from the ground up, meaning the full architecture has been created with the end customer in mind, prioritising speed and how the checkout is presented to customers. Out of the box the checkout page loads in less than 1 second which is a huge improvement on the LUMA checkout that 90% of Magento merchants are currently using.
The Luma Checkout is renowned for being incredibly slow because it's heavily driven on code which relies on the user's technology (javascript) but this isn't the case with the Hyvä checkout. It's fully rendered on the server side which makes loading instant – of course, like with anything, if the customer's connection is poor on their side then this can cause issues but most customers have super fast internet speeds these days.
What does this all mean for you as a merchant? You can customise the checkout in ways you never thought possible, without negatively impacting speed or user experience. What's more, because it comes packed with a simple and easy to use framework built purposefully for checkout customisation, the result will always be a super fast checkout page speed performance, leading to reduced checkout abandonment.
Why was Hyvä Checkout created?
Hyvä already completely transformed the Magento frontend, fixing performance issues and reducing complexity to make both the developer's and the customer's experience 1000 times better. So of course, the next step in Hyvä's journey after the successful launch of Hyvä Themes was to tackle one of the Magento community's other biggest issues – the checkout page.
Checkout is the make or break part of any online store. You can build the fastest, fanciest, stickiest website, if the checkout is clunky, all those efforts just go to waste and your visitors don't become customers. Studies show that you can improve your checkout conversion by 35% simply with better design and UX.
Everything about a customer's shopping experience should be seamless, but the current LUMA checkout makes that difficult to achieve. Sure, there are things you can do to improve the checkout experience in other ways, but customising the checkout is a sure fire way to guarantee an all-round positive shopping experience.
Currently, customisation of the LUMA checkout comes with massive implications:
High development costs – it's very hard to make even a small change to the LUMA checkout because of the Javascript used to create it. This means, even small changes come with massive development costs as they take days to complete and endless lines of code.
Poor site speed – the more Javascript you add to an eCommerce store, the lesser it performs. So, any changes made to the front-end LUMA checkout only decrease site performance even further.
Buggy sites – unfortunately, with so much code added, your site becomes more susceptible to bugs, and bugs are never good.
No room for style – even when changes are made to the LUMA checkout, they are very small due to the overly complex templates which are incredibly hard to style.
Not only are these a complete pain for the developer, but they mean many Magento merchants have no choice but to provide less than the best checkout experience to their customers.
The thing is, a poor checkout experience is one of the main contributors to cart abandonment. Why? Some of the core reasons customers abandon their cart during checkout are:
Poor shipping options
No guest checkout – they are required to create an account
The checkout process feels too long and complicated
No visibility of order value ahead of payment
It's messy – the flow of the checkout process doesn't make sense
Returns policy isn't stated
There aren't enough payment options
The checkout appears unsafe – looks unprofessional and therefore it's hard to trust the firm
The page loads too slowly – nobody has time to sit around and wait whilst the circle of doom does its thing.
Again, this is just further justification as to why customising your Magento checkout is crucial to growth.
Who can use Hyvä Checkout?
At the time of writing this article, Hyvä Checkout is now available as early access. It ran as a beta program for a few months and collected all the essential feedback from credible BETA testers to make it ready to be used in production. With Early Access, merchants who participated in the Beta program can purchase a Hyvä Checkout licence.
Benefits of using Hyvä Checkout
Almost everything in the eCommerce world today is highly personalised. But where that personalisation usually stops when using Magento is the checkout page. It's by no means by choice either. Until now, attempts to make even one single change to the checkout page has cost days in development – an investment you just can't justify as a merchant.
What's more, because of the endless Javascript used in the LUMA checkout, any customisations just add further bulk – and we know bulk in eCommerce infrastructure does nothing but hinder the shopper's experience. If you really want to give your customers what they want during checkout, Hyvä Checkout is the way.
Just like Hyvä Themes, there are multiple benefits of Hyvä Checkout:
Better site performance – there's no clunkiness and masses of code needed to run Hyvä Checkout, meaning there's nothing in the checkout to impact page loading. It's stable and it's free of bugs too, so performance all round is nailed.
It's lighter on the pocket – because it's so easy to customise, things that used to take days to develop now just take hours, or even minutes in some cases.
It increases conversions – a better checkout experience leads to reduced cart abandonment. Which, of course, means you as a merchant can report better conversion rates. Win win.
What still needs to happen for ultimate success?
Hyvä Checkout is the ultimate dream for both developers and merchants, but that doesn't mean there isn't some room for improvement. Living by our values, it's important to make you aware that there are some developments that still need to happen.
Minor drawbacks to Hyvä Checkout:
Hyvä Checkout Early Access launches with compatibility with PayPal. Additional payment providers are on the roadmap including Stripe, Adyen, Multisafepay, Mollie etc… and the team added key resources internally to double down on Payment and Shipping integrations.
Any extensions that you are currently using which add features or customise the checkout page will need to be made compatible and this isn't always possible.
If you just can't wait to start customising your checkout page, payment method and extension compatibility can be achieved prior to the Hyvä team releasing this officially by your development partner.
The Hyvä Checkout Roadmap
Hyvä Checkout has been tried and tested by Magento developers for months now and it's fair to say it's looking like it will breeze through the BETA stages. But it's not been officially launched, yet – only Early Access at this stage. Hyvä being Hyvä, they want to ensure complete perfection, so they're working on making all popular payment solutions compatible before the official launch.
Word on the street is that agencies using the BETA version have already made both Mollie and MultiSafePay compatible to some degree. It won't be long before all payment methods are compatible as this checkout solution is gaining momentum, fast, and once it is officially launched later this year, that momentum is going to go wild.
What do we think will be next after launch? Knowing Hyvä, we have no doubt it will be something big. Whilst we'll leave that mostly to curiosity for now, we do have some teasers:
Full Adobe Commerce Compatibility
UI Library to allow for faster customisation.
Checkout Compatibility with all Luma-based Themes
International Market Adaptations – Swapping of the Shipping and Billing address via a system setting in the background. This is huge for merchants based in Germany and other EU countries.
In Our View – Final Thoughts
Using the same principles as Hyvä Themes, the Hyvä team have simplified things allowing Magento developers to use their existing skill set to customise the checkout page quickly and easily to meet clients requirements within a limited budget.
When Hyvä Themes first came out, only a select few of us saw its potential and began developing sites using it. But as it's gained momentum, more and more agencies – 400 so far to give you an idea of its popularity – are jumping on the bandwagon.
It's the natural progression for such great software and now that Hyvä has brought out Hyvä Checkout, that progression is going to accelerate.
My honest opinion? In 5 years time, PWA will be a distant memory. I truly can't see any reason why by that point, all Magento merchants won't be using Hyvä Themes and Hyvä Checkout.
You heard it here first!
Interested in a no obligation chat about Hyvä and its wonders? Get in touch with our expert team and find out how we can help your business unlock the full potential of your Magento website.